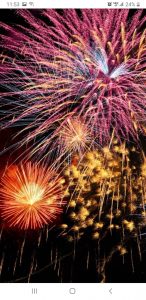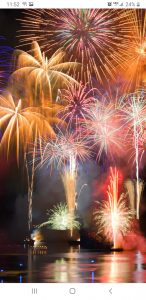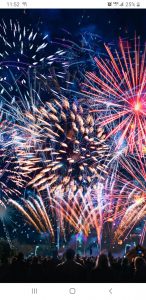 1.  The Declaration of Independence wasn't signed on July 4th.  July 4th was just the day the document was formally dated, finalized and adopted by the Continental Congress.
2.  The first 4th of July celebrations weren't much different than today's.  After years of pent-up frustration, the colonies let loose upon hearing the words of the Declaration of Independence in 1776.  Statue of King George was torn down and later melted into bullets.  Celebrations began to look more like today the following year.  In Philadelphia for instance, there was ringing of bells and a grand exhibition of fireworks.  Even ships decked out in patriotic colors lining the harbors.
3.  Eating salmon on July 4th is  tradition in New England.  The tradition of eating salmon began in New England as a coincidence.  In the middle of summer, salmon was abundant in rivers throughout the region, so it was a common sight on tables.  The dish eventually got lumped into the 4th and has stayed ever since.
4.  Massachusetts was the first state to recognize July 4th.  Massachusetts recognized the 4th of July as an official holiday on July 3, 1781.  Congress hadn't even begun designating federal holidays until June 28, 1870 with the first four being New Year's Day, Independence Day, Thanksgiving, and Christmas. This decreed that those day were holidays for federal employees.  However, there was a distinction.  The 4th of July was a holiday "within the District of Columbia" only.  It took years of new legislation to expand the holiday to all federal employees.
5.   The oldest annual 4th of July celebration is held in Bristol, Rhode Island.  Eighty -five years before the government recognized the 4th of July as a federal holiday, the town of Bristol Rhode Island began doing Independence Day in 1785.  The festivities began just two years after the Revolutionary Way ended, and 2020 will be its 235th anniversary.  What usually includes live music, parades, food and other activities, will be scaled down and spread out throughout the summer due to Covid-19.
6.  The shortest 4th of July parade is in Aptos, California.  This 4th of July parade is just a hair over half a mile long.  It takes up two city blocks and measures .6 miles.  This brief bit of patriotism features antique cars, decorated trucks and plenty of walkers, followed by a Party in the Park.
7.  There are around 15,000 Independence Day fireworks celebrations every year.  Though prices vary, small towns spend from $8,000 – $15,000 and larger cities going into the millions.
8.  Americans eat an obscene amount of hot dogs on July 4th.  Americans consume about 150 million hot dogs while celebrating July 4th.  According to the National Hot Dog and Sausage Council, that amount can stretch from Washington DC to Los Angeles more than five times.
9.  Americans spend billions on food to celebrate July 4th.  In 2019, the National Retail Federation predicted Americans would spend around $6.7 billion on food and other cookout expenses, averaging out to about $73/person.  More beer is sold around July 4th than any other holiday throughout the year.  On average, Americans will spend $1 billion on beer and $560 million on wine.
10.  Three president have died and one was born on July 4th.  Thomas Jefferson and John Adams died on July 4, 1826.  James Monroe died on July 4th, 1831.  Calvin Coolidge was born on July 4, 1872.
While this 4th of July will not be the same, with most of the fireworks celebrations being cancelled due the Covid-19, we at Sunny Roofing wish you and your families and safe and happy weekend.